Children Must Play Outside Daily at least 2 Hours a Day
to Help Decrease Risk of Myopia (Near-Sightedness) and Resulting Glaucoma, Retinal Holes, Tears, Retinal Detachment, Cataract (all increased with myopia)
Loss of Meibomian Glands and Chronic Dry Eyes
Effect of Time Spent Outdoors at School on the Development of Myopia Among Children in China
A Randomized Clinical Trial
Mingguang He, MD, PhD1,2; Fan Xiang, MD, PhD1,3; Yangfa Zeng, MD1; et al
Jincheng Mai, BSc4; Qianyun Chen, MSc1; Jian Zhang, MSc1; Wayne Smith, MD, PhD5; Kathryn Rose, PhD6,7; Ian G. Morgan, PhD1,8
JAMA.
2015;314(11):1142-1148. doi:10.1001/jama.2015.10803
Importance
Myopia has reached epidemic levels in parts of East and Southeast Asia. However, there is no effective intervention to prevent the development of myopia.
Objective
To assess the efficacy of increasing time spent outdoors at school in preventing incident myopia.
Design, Setting, and Participants
Cluster randomized trial of children in grade 1 from 12 primary schools in Guangzhou, China, conducted between October 2010 and October 2013.
Interventions
For 6 intervention schools (n = 952 students), 1 additional 40-minute class of outdoor activities was added to each school day, and parents were encouraged to engage their children in outdoor activities after school hours, especially during weekends and holidays. Children and parents in the 6 control schools (n = 951 students) continued their usual pattern of activity.
Main Outcomes and Measures
The primary outcome measure was the 3-year cumulative incidence rate of myopia (defined using the Refractive Error Study in Children spherical equivalent refractive error standard of ≤−0.5 diopters [D]) among the students without established myopia at baseline. Secondary outcome measures were changes in spherical equivalent refraction and axial length among all students, analyzed using mixed linear models and intention-to-treat principles. Data from the right eyes were used for the analysis.
Results There were 952 children in the intervention group and 951 in the control group with a mean (SD) age of 6.6 (0.34) years. The cumulative incidence rate of myopia was 30.4% in the intervention group (259 incident cases among 853 eligible participants) and 39.5% (287 incident cases among 726 eligible participants) in the control group (difference of −9.1% [95% CI, −14.1% to −4.1%]; P < .001). There was also a significant difference in the 3-year change in spherical equivalent refraction for the intervention group (−1.42 D) compared with the control group (−1.59 D) (difference of 0.17 D [95% CI, 0.01 to 0.33 D]; P = .04). Elongation of axial length was not significantly different between the intervention group (0.95 mm) and the control group (0.98 mm) (difference of −0.03 mm [95% CI, −0.07 to 0.003 mm]; P = .07).
Conclusions and Relevance
Among 6-year-old children in Guangzhou, China, the addition of 40 minutes of outdoor activity at school compared with usual activity resulted in a reduced incidence rate of myopia over the next 3 years. Further studies are needed to assess long-term follow-up of these children and the generalizability of these findings.
Doctors raise the alarm at steep rise in myopia among Hong Kong children
Government urged to take action after figures reveal a 10.5pc increase in youngsters with nearsightedness
PUBLISHED : Wednesday, 28 September, 2016, 8:01am
UPDATED : Wednesday, 26 October, 2016, 2:38pm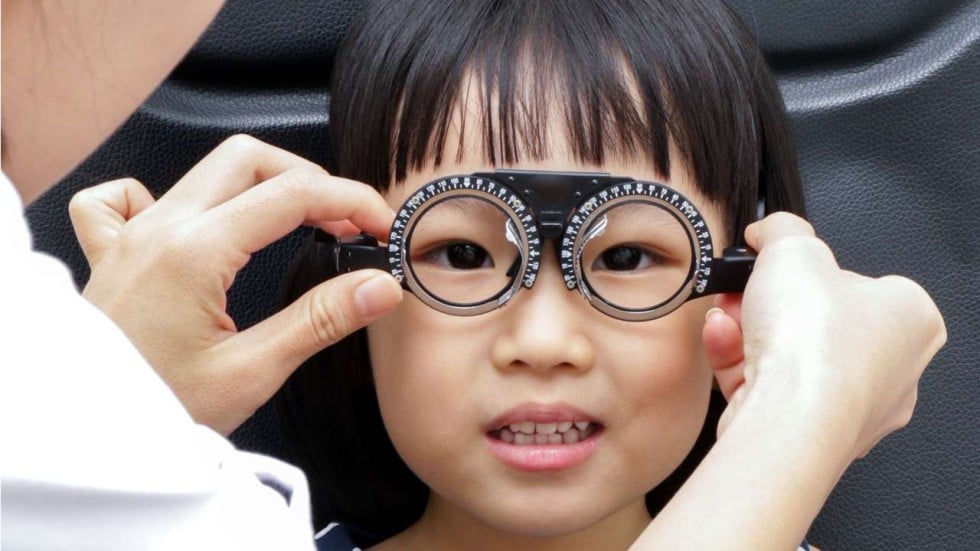 Nearsightedness is on the rise among Hong Kong children, with close to 80,000 found to be suffering the condition in the last school year, a 10.5 per cent increase.
Department of Health figures showed rates among primary and secondary pupils were 21.7 per cent and 15.8 per cent respectively in the 2014-15 school year.
The data was made available on Tuesday as eye experts warned that nearsightedness, or myopia, in children had become an imminent public health issue and called on the government to take action.
Optometrists at Polytechnic University recently conducted in-depth studies on 120 students aged 12 to 18 with a high degree of myopia – on average over -8 diopters. A diopter, expressed in negative numbers for myopia, is the power of the lens needed to correct vision. The higher the number, the stronger the lens required.
The study found that over three-quarters of the students had already developed retinal problems because of myopia, with one case so serious it was classified as "sight-threatening".
Myopia occurs when the eyeball is too long, relative to the focusing power of the cornea and lens of the eye. Light does not focus on the retina as it should, making distant objects appear blurry.
It can also be caused by the cornea or lens being too curved for the length of the eyeball. In some cases, myopia is due to a combination of these factors.
Mild cases do not pose a big risk, but severe myopia can lead to retinal detachment, glaucoma or cataracts. People with severe myopia usually started getting nearsighted when young and it progresses year after year.
Dr Patrick Ting Wai-ki of the Hong Kong Society of Professional Optometrists warned parents not to overlook the problem.
"Parents take it lightly, thinking it is simply a minor inconvenience that requires wearing glasses. But with nearsightedness progressing over the years, the eyes will grow so long that the retinas could be damaged," he said.
Dr Vincent Ng Sheung-shun, of Polytechnic University's school of optometry, echoed Ting's view and called for urgent government efforts to promote eye health in schools, including more time for outdoor activities.
Both experts warned parents not to let their children spend too much time on electronic devices.
A Health Department spokesman said it had issued a report in 2014 on healthy use of the internet and electronic screen products.