Below is an excellent review by Dr. Lipper.


The take-home points are as follows:


1. Rosacea represents hyperreactivity of the innate immune system.


I would add it may also represent increased VEGF (Vascular Endothelial Growth Factor) which is likely the underlying reason why rosacea is associated with multiple other systemic issues as noted below.***


3. Preventive treatment of the red spots on the skin is key. Avoid the possible triggers for some it is one thing, for another, something else: common ones are:
-wind, cold air, sun
-certain foods as noted below (gluten, dairy, sugar)
-alcohol intake,
-abrupt changes of temperature,
-solar exposure and long.
-hormone changes
-emotional outbursts (said a patient recently)


4. Treatments: Medical


a. Low-dose doxycycline is the only US Food and Drug Administration (FDA)-approved oral treatment for rosacea.
b. Off-Label (not FDA approved) antibiotics: minocycline, azithromycin, lymecycline, oxytetracycline,
c. Off Label drugs: oral ivermectin.[15]
The below review does mention isotretinoin, which I would AVOID completely as it can destroy meibomian glands.
d. gallium maltolate (Gallixa) topically: has antimicrobial and anti-inflammatory properties.


5. What else might help:




b. Diet can help significantly in some patients:
1) avoid g
luten & sugar
2) some say to avoid dairy
3) some say eat only organic

4) some patients have partic
ular triggers; ie alcohol, tomatoes


c. Always Avoid exposure to the sun as it atrophies the skin (thins epidermis). The elastic fibers deteriorate, which will make the capillaries of the dermis more visible.

d. Use Cosmetics and topical treatments that do not irriate the skin:

Soothe Skin Options: These are based on what patients have said work for their skin but are not based on clinical trials. Products are often patient-specific, so if you have a negative reaction, stop it and place cool/cold compresses to decrease inflammation. These are some patients have used and liked.











1) Use sunscreens that improve the vascular enviornment (vasoconstrictors). Most dermatologists recommend to use only sunscreens that have titanium dioxide & zinc oxide These are some patients have used and liked.








Cover up treatments:
3) Cosmetics: try to use products based on your skin type (ie if oily versus dry)
Some patietns have found these helpful: there are no randomized, controlled studies on these:




-Clinique's double-face powder




-Pür Minerals 4 in 1 powder


























-Etude House Cosmetic Products







-Missha Products:

–Olay regenerist: a lot of my patients love this one & use it daily:
























-Prosacea: helps with mild flare ups. A bit more expensive.
























-Finacea Foam (Generic Foam: Azelaic Acid):





















-Others patients have mentioned helped their rosacea:



I hope this helps!
SLC
https://www.medscape.com/viewarticle/902020_1



Centrofacial erythema with telangiectatic mats and flushing;

Inflammatory lesions (papules, pustules, cysts);

Phymatous changes (skin hypertrophy and fibrosis), usually affecting the nose; and/or

Ocular inflammation (conjunctivitis, blepharitis, chalazion).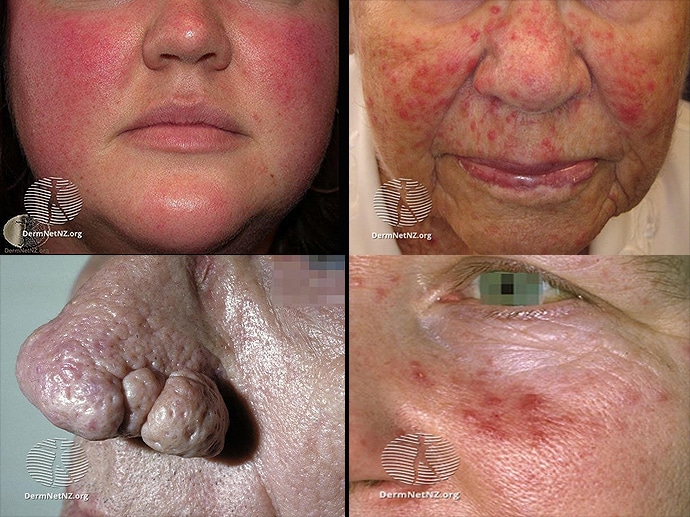 1. It's Not Just a Skin Disease
Immune (dietary and airborne allergies);

Endocrine (types 1 and 2 diabetes mellitus);

Musculoskeletal (rheumatoid arthritis);

Neurologic (migraine, dementia, Parkinson disease); and

Psychiatric (depression, anxiety, alcoholism).

2. Antibiotics Work, but Not for the Reason You Might Think

3. There Is No One-Size-Fits-All Treatment

4. Red Skin, Red Eyes

5. Persistent Erythema? Don't Forget Lasers and Light